Top 10 Best Cooker Hood and Hob Packages in Singapore: Features & Prices
Best Cooker Hood and Hob Packages in Singapore
When the pandemic hit, people were kept homebound. Many turned to delivery services to cater to their needs but over time the financial weight of ordering became unbearable. Consequently, people started to pick up cooking for economic and health reasons. But as home cooking grew in popularity, so did the search for the best cooker hood and hob packages in Singapore. With so many to choose from, what really constitutes the best cooker hood and hob package that Singapore has to offer?
Why Buy Cooker Hood and Hob Packages In Singapore
Hood and hob packages can save you a great deal of money as opposed to buying each component separately. Additionally, some cooker hoods complement certain hobs in terms of aesthetics and functions, so it's always a good idea to purchase a cooker hood and hob as a package in Singapore.
What To Look Out For When Choosing A Cooker And Hob Package
Cooker hood and hob packages in Singapore can be compared based on the following criteria:
1) Hood
Suction power
Filters (For grease and odors)
Noise level
2) Hob
Considering the above criteria, we present the top 10 cooker hood and hob packages in Singapore.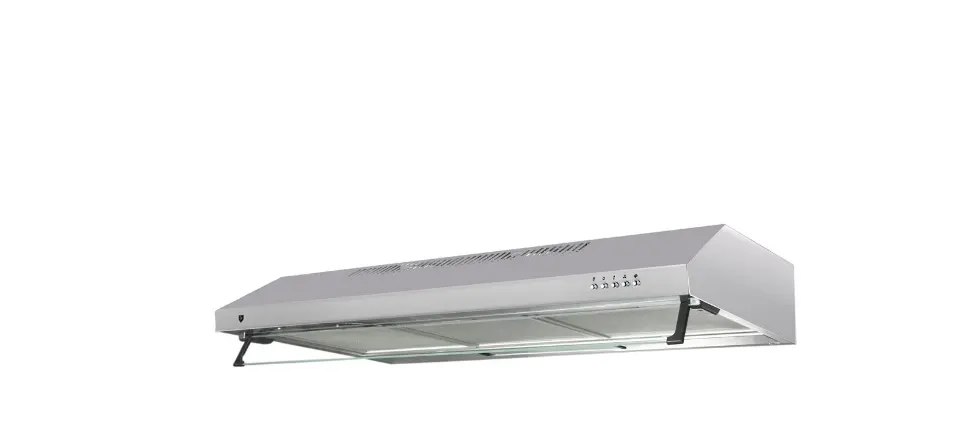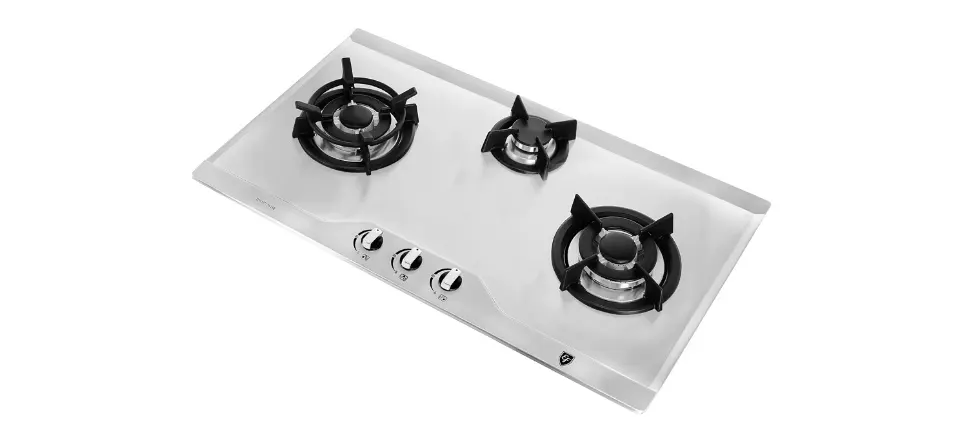 Price: $528.00
The EF Kitchen bundle package is simple and cheap. Currently selling for a bargain price of $528, the EF Kitchen Bundle Package has a hood which comes with 3 fan speeds, dual motors, dual charcoal filters and aluminum grease filters with recirculation and extraction mode.
The battery ignition hob comes with 2 triple ring burners on either side (3.4kW), and the center is occupied by a semi rapid burner (1.75kW). Burner base is fully sealed, and there are flame failure safety devices of course. This package is considered a steal considering the product's decently high quality.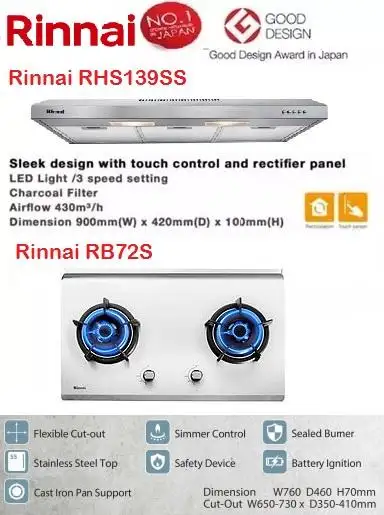 Price: $588.00
Said to be the number 1 brand in Japan, this cooking hood and hob package comes with a Rinnai hood that has a sleek design with touch control and rectifier panel, as well as a charcoal filter. However, the airflow is slightly below average, sitting at 430m³.
The hob is constructed with a stainless-steel top and cast-iron pan support. To facilitate cooking, it also comes with simmer control. Safety-wise, burners are sealed, and the hob has a safety device. Overall, a decent cooking hood and hob package that is value for money.
Price: $688.00
This cooking hood and hob package by Fujioh comes with a 3 burner gas hob. It has features like gas cut-off safety, precise temperature control and a cast iron grid.
The Rinnai Slimline Hood has a sleek design with touch controls. 3 spinning motors are fitted for uniform suction at 3 different speed settings. Circulated air is clean & fresh owing to the charcoal filter.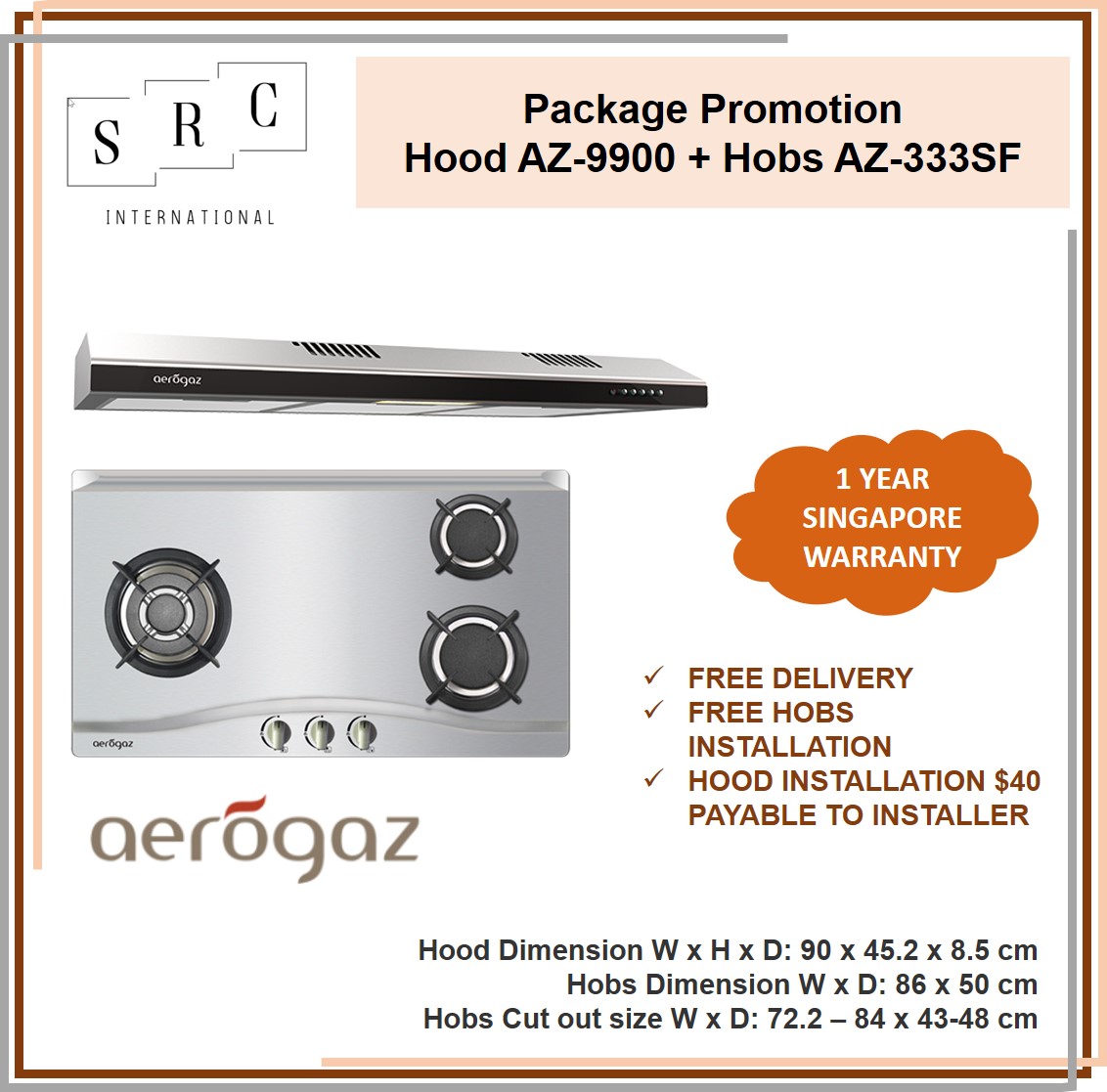 Price: $499.00
At an extremely affordable price of $499, this cooking hood and hob package offers a 90cm stainless steel hob. Sitting on top are 3 burners with cast iron pan support. Flame failure device fulfils the necessary safety requirements.
The hood has 3 speed controls and a stainless-steel chassis. 3 washable aluminum grease filters and 2 snap-in active charcoal filters work in coordination to produce clean filtered air.
Price: $329.00
With 2 hoods and 2 hobs to choose from, this package comes in 4 different options.
The MMSI401 generates an impressively low noise level of <59dB without compromising on its 550m³ per hour airflow. It also has 3 charcoal filters for effective odor removal. Likewise, the MMSL404 also produces <59dB of noise. It comes with high grade stainless steel, charcoal filter and an additional aluminum filter.
Moving on to the hobs, we first have MMGH772H. It has a tempered glass top, 2x brass burners, cast iron trivets and flame failure safety devices which are standard. MMGHSS772H comes with identical features but has a stainless-steel top instead of tempered glass.
Price: $769.00
2x brass burners with a stainless-steel top and cast-iron trivet. Not to forget, the hob comes with flame failure safety devices too.
The hood has a modern touch control and is manufactured using high grade stainless-steel. The black deco acrylic front panel paints a visually pleasant view. Internally, the hood contains charcoal and aluminum filters to remove odors and grease.
Price: $899.00
The hob in this package consists of 2 Large wok burners and 1 medium burner made with high-strength aluminum alloy, topped with brass burner caps. SCHOTT toughened float glass top completes the product. Safety-wise, the burner comes with instant ignition safety valve mechanism.
The stainless-steel Tecno cooker hood is said to generate ultra-low noise while providing a surprisingly high suction power of 650m³ per hour. Cleaning is also made easy with the 3-ply washable aluminum filters.
Price: $750.00
The gas hob has a square trivet design made with cast iron. Along with the Aerated Dual-Jet Technology, the gas hob produces high heat and a steady flame using the 4.0kW burner. The hob is also battery powered and equipped with a safety flame device.
As for the hood in this package, it comes with multi-layer grease filter and a carbon filter, efficaciously removing grease and smoke. Finally, it has a slim and sleek design, occupying minimal kitchen space.
Price: S$1048.00
The Ariston gas hobs are sealed with a top sheet to prevent cooking spillage from entering the gas hob. The hob is also engineered with a gas security valve. 30 seconds after the flame is extinguished, the valve automatically cuts off the gas supply, preventing gas leakage when the flame is accidentally put out or when the burner is carelessly left un-shut.
The burner also has a high-quality flame failure device, with a guaranteed usage of more than 10,000 times. With safety being such a highly prioritized feature of the Ariston gas hobs, amateur home cooks can prepare meals with a piece of mind.
The Ariston hood is also equipped with quality filters. The 3-layer grease filter removes grease effectively from cooking vapors. This aids in the reduction of cooking odors in addition to purifying the air. The anti-odor charcoal filter absorbs grease particles, smells, and smokes. Altogether, the heavily layered filters in the hood guarantees a clean environment.
Price: $1398.00
Induction hob is simple to clean and doesn't pose any safety risk like gas leakage. Induction technology also provides efficient heat transfer to the pan, as well as precise heat controls while utilizing 90% less energy than gas hobs. Mayer's induction hob also offers an intriguing wireless communication feature, wirelessly connecting to a compatible Mayer hood to automatically activate the said hood upon start up and shutdown. There are 9 different levels of power settings, and the automatic pan recognition system detects the pan on the cooking zone to use the appropriate amount of energy.
The hood comes with high-grade stainless steel front panel with black acrylic, and a grey powder coating chassis to give it a polished, modern look. In terms of functionality, the aluminum grease filter and charcoal filter removes odors and grease.
Offering multiple interesting premium features, this package provides convenience, albeit at a price.
Conclusion
Best Cooker Hood and Hob Package In Singapore?
More often than not, higher price equates to higher quality. However, for hobbyists and temporary home cooks, a cheap cooker hood and hob package can definitely get the job done. On the contrary, one should consider investing in a high quality hood and hob if cooking for the long term. The hassle that can be avoided with a few extra hundreds is 100% worthwhile in my book. Hope you found this article useful.