Food Steamer: Best And Where To Buy in Singapore
A Food Steamer is a kitchen essential for the health conscious. Steaming eliminates the need for cooking oil or fat, making it the healthiest cooking method. In fact, steaming is even healthier than boiling as there is no leaching of water-soluble nutrients and vitamins into boiling water. However, with the endless selection to choose from, we find ourselves experiencing the paradox of choice in choosing a food steamer in Singapore.
Choosing The Right Food Steamer
A basic food steamer in Singapore starts from as low as $15, easily reaching the hundreds for the more advanced models. While we understand that price is a primary concern for most consumers, we do think that there are many functions worth paying for.
First off, a timer is essential in a food steamer. It helps prevent your food from getting mushy due to overcooking.
Size of the food steamer is another important factor. One of the main reasons why steamers are so convenient, is because it can be used to cook several layers of food simultaneously. In fact, using multiple baskets, it's possible to cook a full meal in one go. If you have a small family size however, you could opt for a mini food steamer.
Some steamers include a rice bowl which is used to cook rice simultaneously alongside the other steam dishes. As rice is a staple in Asian culture, this could be something to consider if you're looking to buy a food steamer in Singapore.
It is important to have a water tank that is refillable even as it steams. The last thing you want is for the steam supply to get cut when water runs dry.
With that, let's move on to our list of the best food steamers in Singapore.
Best Food Steamers In Singapore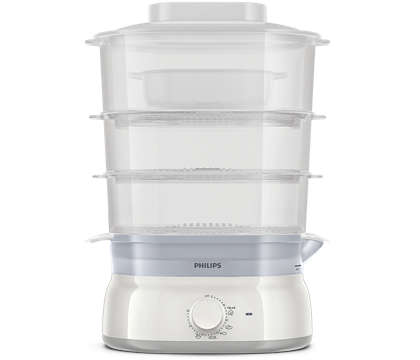 Price: $79.00
Features:
Aroma infuser
Egg rack with capacity of 6 eggs
Easy to top up water
Anti-drip lid
Stackable baskets
Steams up to 3 layers at once
A well-designed product that exceeded our expectations. To start off, the Philips Daily Collection comes with an innovative aroma infuser feature. Herbs and spices that are thrown into the booster have their aroma brought out by the hot steam, sprucing up your dishes.
If water is on the verge of running out after a prolonged steaming session, fret not as the reservoir can be refilled easily even when the steamer is still in use. This is all thanks to the carefully thought-out design of the water reservoir, where there is a small vent on the side that allows water to enter without allowing steam to escape.
Finally, say goodbye to soggy and mushy food as this food steamer comes with an anti-drip lid, on which steam condenses and flows outside of the contraption.
Overall, this is an impressive product that we think is worth every penny. The only shortcoming is the absence of a timer. However, it doesn't pose much of a problem if the user keeps on eye on the steamer as it cooks.
You get get the Philips steamer from their official store.
Price: $72.00
Features:
Stainless-steel
2 layers
60 min timer
Visible water level
6L capacity
Made with durable stainless-steel, the quality of materials surpasses that of a typical plastic food steamer. This product also comes with a convenient 60 min mechanical timer with automatic switch off, allowing users to simply set and forget, coming back to a fully cooked meal.
Another noteworthy feature is the observable water level. You can monitor the water level and refill the reservoir as needed from an external water inlet. This means that water can be added even when the steamer is still in use.
Spread over 2 layers, the 6L capacity is also sufficient to feed a family of 4.
You can get your Tefal food steamer from the official store as well.
Price: $149.00
Features:
5L glass pot
1L water tank
60 min timer
5 pre-programmed food settings
Further up the spectrum, we have the high-end digital glass food steamer. This is the most expensive one on our list, and for good reason.
While there is only one glass pot by itself, it holds a massive capacity of 5L, more than enough for a family-sized dish.
There is something interesting about the steam system of this product. Usually, steam rises from the bottom up, penetrating the layers of food. For this glass steamer, powerful steam is delivered from the top down instead, cooking food evenly and quickly.
Another convenient feature worth mentioning is the 5 pre-programmed timer settings for:
Seafood,
Poultry,
Grains,
Vegetables, and
Manual
Steaming has never been easier. Coupled with the 60 min timer, you won't have any issues with multi-tasking at all.
Lastly, the water tank is removable and separate from the glass pot, so you can directly serve up the food with the glass pot without worrying about water spillage.
One drawback of this product would be that the single layer makes it difficult to prepare a variety of steamed dishes. However, with a bit of planning, the 5L capacity can definitely accommodate a couple of small dishes at a time.
Visit the Cuisinart website to get one for yourself!
Mini Food Steamer
Price: $79.90
Features:
3 tiers
1.0L capacity
Turbo steam system
We mentioned that we'll be looking at mini food steamers in Singapore as well, and here it is. This product is a simple 3 tier steamer with 1.0L capacity, ideal for preparing meals for a small family or your significant other.
A convenient feature of this product is the turbo steam system, where water starts steaming in 30 seconds. This is another perk of a mini steamer – the ability to cook fast.
Get the mini food steamer here.
Conclusion
Having gone through a list of the best food steamers in Singapore, you should now have a better idea of which one to buy. Understandably, it can be hard to choose when all the choices are equally appealing, and each have their perks. But if a choice must be made, our recommendation would be the Philips Daily Collection steamer. It has many crucial features that directly affect the quality of cooking. For instance, the aroma infuser elevates the flavor of the dish, and the 3 tiers of steaming allows for great variety of food. We also appreciate the anti-drip lid, as food gets soggy when condensation drips all over. All things considered, the Philips steamer is indeed the best choice. With that, we hope you enjoyed this article and found it useful.