Best Slow Cookers In Singapore For Delicious Meals!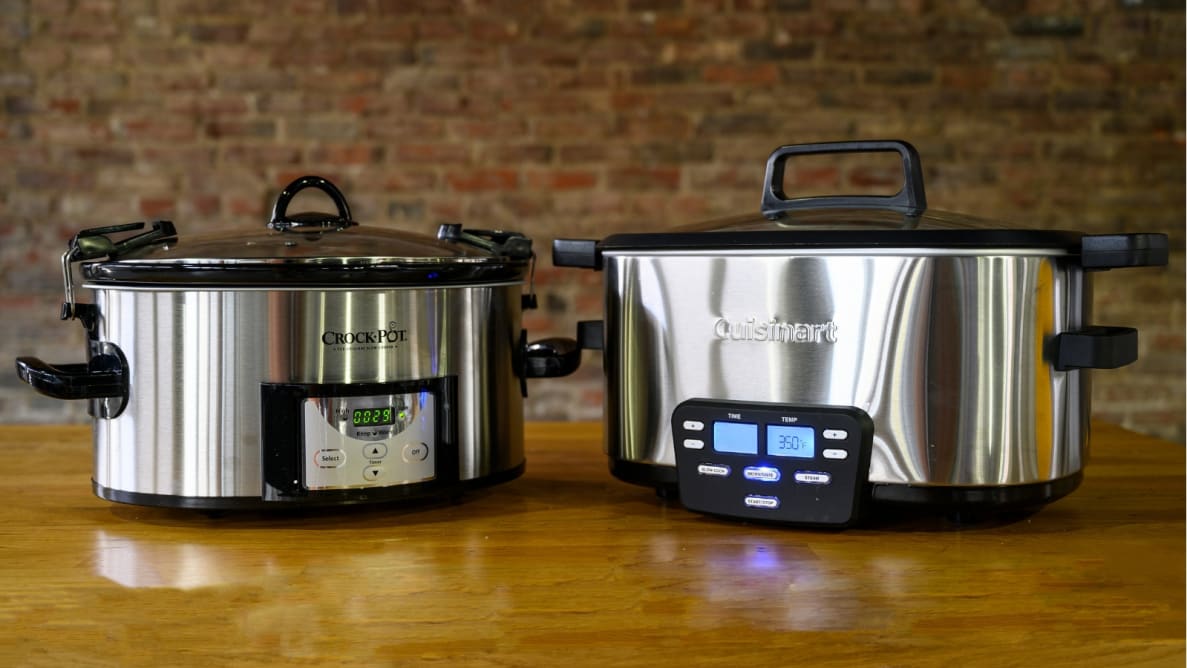 What Is A Slow Cooker?
As one may tell from its name, a slow cooker is an electrical cooking appliance that prepares food through hours-long of simmering. Taking place at a lower temperature range of 95-150 degrees Celsius, the slow cooking process tenderizes the meat and elevates the flavour profile of the dish by bringing out the natural flavours of the ingredients gradually. Serious cooks considering getting a slow cooker will enjoy this article as we share with you the best slow cookers in Singapore
Pressure VS Slow Cooker
Before diving into the best slow cooker in Singapore, we must first be aware that there exists a similar kitchen appliance called a pressure cooker which some have argued to be a better alternative to slow cookers.
How They Work
In terms of how they work, a slow cooker simply heats from the bottom, whereas a pressure cooker operates in a slightly more complex way. A pressure cooker is a sealed pot where steam builds up to a high pressure. At high pressures, the boiling point of water is increased, allowing for higher temperatures to be reached. Consequently, food is cooked at a faster rate.
Types Of Food That Can Be Prepared
What about the types of food that can be prepared using a pressure cooker vs a slow cooker? Slow cookers are ideal for cooking cheaper cuts of meat like lamb shoulder, pork shoulder, beef brisket and chicken thigh as the sheer cooking duration can tenderize even the cheapest cuts of meat. Furthermore, slow cooking extracts the meaty flavors well, meaning that you can include less meat in your dish without compromising on taste.
On the other hand, a pressure cooker can be used to prepare anything that a slow cooker can. In fact, it was made to prepare slow cook dishes at a much faster rate. Many pressure cookers even have the slow cooking function. If anything, a pressure cooker can cook a wider selection of foods.
Convenience
Convenience wise, the slow cooker triumphs vs the pressure cooker. To cook in a slow cooker, one simply needs to add all the ingredients and let the cooker run throughout the day or overnight without supervision. When you arrive home after a long day of work, you are greeted with a warm meal.
Cooking using a pressure cooker doesn't require much effort too, but the difference is that you can prepare slow cooked dishes way ahead of time using a slow cooker. For pressure cookers, you'd have to wait for 30 mins to an hour for the food to cook after you get back home which can be a pain when you're exhausted from work.
Flavour
Finally, let's compare the flavours of food produced by a pressure cooker vs a slow cooker. Food critics have pointed out that the slow cooking process causes most volatile aromatics to escape due to the long cooking duration so you may end up with a dull dish. Foods prepared using a slow cooker are also universally blander than those made in a pressure cooker and there is a science behind this. Because slow cookers distribute heat so evenly, they are unable to develop any complex flavours from Maillard reactions on the surface of the food being cooked. This is often compensated by browning the ingredients prior to slow cooking them.
What Makes The Best Slow Cookers in Singapore
There are not many features to compare across different brands of slow cookers. In fact, we'll only be looking at 3 features in deciding on the best slow cooker in Singapore.
Programmable
Manual slow cookers only stop cooking when you manually instruct it to. Additionally, they only feature a couple of heating levels, making it impossible to set a precise temperature. On the contrary, a programmable one allows you to set a specific temperature and a cooking duration, giving you way more control over the cooking process. You can also set and forget using the timer. In my opinion, the programmable feature is essential on a slow cooker.
Versatility
It can be convenient to get a slow cooker that features other cooking functions like double boiling and pressure cooking. Not an essential feature of course, but definitely good to have.
Capacity
If you're attempting a slow cook dish, chances are you're not cooking for yourself only. It certainly would be a waste to have the appliance run for 10 hours just to produce a single portion. To maximize the utility of the slow cooker, a sizeable capacity is required.
With that out of the way, we can finally move on to the best slow cookers in Singapore.
Best Slow Cookers In Singapore – Takahi 3088
Price: $108.00
3L capacity
4 heating modes
Adjustable cooking time (up to 9:55 hours)
Programmable
Automatic 6-hours keep warm function
Low power consumption
Takahi 3088 is ideal for soups and stews. However, note that it is not fully programable. Cooking duration can be adjusted up to 9.55 hours, but the temperature can only be set using 4 different heating modes – Slow, Low, Medium, and High. Even though we don't get full control over the cooking process, the Takahi 3088 does come with other advantages.
The tempered glass lid allows you to gauge how much more time is needed in the slow cooker without removing the lid and causing heat to escape. When the cooking is finished, the slow cooker then automatically keeps the food warm for 6 hours. It also has a removable ceramic pot for easy serving.
Since the ceramic pot retains heat well, this slow cooker is more energy efficient. Ceramic also has no chemical additives, making it entirely safe for consumption as there's nothing to leach into your food.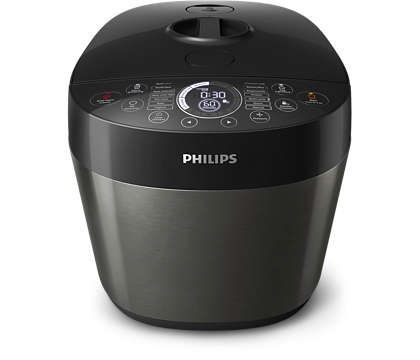 Price: $369.00
Multiple functions
6L capacity
Sauce thickening function
Automatic 12-hour keep warm function
2-year international warranty
Function-wise, the Philips Multi-cooker is the best slow cooker in Singapore. The 6L capacity can fit a whole chicken and easily feed a family of 5-8. Slow cook to achieve melt-in-mouth level of tenderness on your meats. If you're pressing for time, use the pressure-cooking function to fix your meal in a matter of minutes. That's the versatility of a multi cooker.
This cooker also allows you to sauté/sear to enhance richness of flavors before slow cooking. Coupled with fully programmable settings, you have full control over the cooking pressure, temperature and cooking duration to achieve the perfect texture for your food. If you're not happy with the flavors, you could even reduce your sauce and soup for intensified flavor using the sauce thickening function.
With the variety of features offered, you can conveniently make restaurant-quality food with ease. Though it is pricier, this could very well be the best slow cooker in Singapore.
As we move on to the final part of this article, we'll be showing various slow cooker recipes that might pique your interest.
Slow Cooker Recipes
We've selected the most popular slow cooker recipes on BBC Good Food. The recipes are all classified as easy, and they'll give you an introduction to what a slow cooker can make.
1) Beef stew
[ Serves 4 ]
Ingredients:
1 onion (chopped)
2 celery sticks (finely chopped)
2 tbsp rapeseed oil
3 carrots, halved (cut into chunks)
2 bay leaves
½ pack thyme
2 tbsp tomato purée
2 tbsp Worcestershire sauce
600ml boiling water
2 beef stock cubes or stock pots
900g beef for braising
Fry the onion and celery in 1 tbsp oil over a low heat until they start to soften (~5 mins). Add the carrots, bay and thyme. Fry for 2 mins.
Add the purée, Worcestershire sauce, 600ml boiling water into the pan, then tip everything into a slow cooker. Drop the stock cubes into the slow cooker and add some pepper for taste.
Fry the beef in the remaining 1tsbp of oil until well browned.
Slow cook on Low for 8-10 hours, High for 4 hours.
Click here for the full recipe.
2) Slow-cooker Chicken Casserole
Credit: Lulu Grimes/BBC Good Food
[ Serves 2 Adults + 2 Children ]
Ingredients:
knob of butter
½ tbsp rapeseed or olive oil
1 large onion (finely chopped)
1 ½ tbsp flour
650g boneless, skinless chicken thigh fillets
3 garlic cloves (crushed)
400g baby new potatoes (halved)
2 sticks celery (diced)
2 carrots (diced)
250g mushrooms (quartered)
15g dried porcini mushroom, soaked in 50ml boiling water
500ml chicken stock
2 tsp Dijon mustard
2 bay leaves
To a large frying pan, add a knob of butter and ½ tbsp rapeseed or olive oil. Heat for 8-10 minutes until softened and caramelized.
Add 1 ½ tbsp flour, a pinch of salt and pepper into a bowl and toss 650g boneless, skinless chicken thigh fillets.
Add 3 crushed garlic cloves and the chicken to the pan. Cook for 4-5 mins more until the chicken starts to brown.
Transfer to your slow cooker, along with 400g of baby new potatoes, 2 diced celery sticks, 2 diced carrots, 250g quartered mushrooms, 15g dried and soaked porcini mushrooms with the 50ml soaking liquid, 500ml chicken stock, 2 tsp Dijon mustard and 2 bay leaves.
Cook on Low for 7 hours or High for 4 hours.
Serve with a little Dijon mustard.
Click here for the full recipe.
3) Slow-cooker Chicken Curry
[ Serves 2 ]
Ingredients:
1 large onion (roughly chopped)
3 tbsp mild curry paste
400g canned tomatoes (chopped)
2 tsp vegetable bouillon powder
1 tbsp ginger (finely chopped)
1 yellow pepper (deseeded and chopped)
2 skinless chicken legs (fat removed)
30g pack fresh coriander (leaves chopped)
To the slow cooker, put the onions, curry paste, tomatoes, vegetable bouillon powder, ginger and pepper with a third of a can of water and stir well.
Submerge the chicken legs under all the ingredients. Cover with the lid and chill in the fridge overnight.
The next day, cook on Low for 6 hours to tenderize the chicken and vegetables.
Stir in the coriander and serve.
Click here for the full recipe.
Conclusion
If you're a new to slow cooking, you may be intimidated by the long cooking duration of a slow cooker, but we recommend trying out the above recipes which are beginner friendly and you'll see how convenient a slow cooker actually is.
Best Slow Cookers In Singapore
In our list of best slow cookers in Singapore, we identified Takahi 3088 and Philips Multi-cooker. Both are high quality products with convenient features. The only difference is that the former is more value for money, while the latter is simply a premium product with a myriad of handy features.
That sums it up for the Best Slow Cookers In Singapore. Hope you found this article useful.