Car Camera Installation Price In Singapore
The importance of having a car camera is well understood by many. However, the process doesn't just stop at choosing the perfect car camera. You still need to search for an appropriate service provider to install it. We understand that car camera installation price in Singapore is not necessarily cheap, therefore we'd like to help you identify the best service provider.
To achieve just that, we have curated this article comparing the various car workshops that provide car camera installation services. The car workshops are judged in terms of the quality of their service, as well as pricing satisfaction based on customer reviews.
Installing The Car Camera Yourself
Some car workshops do offer a complementary car camera installation service when you purchase a car camera from their store. Otherwise, you can consider installing it yourself.
Certain brands of dashcams can be easily installed on your own in just a few steps. Thinkware Dash Cams for instance, has a car camera installation guide on their website. Installation is as easy as attaching the camera to a holder, and then attaching the holder to the windshield using adhesives.
Installing the car camera yourself is ideal if the installation process is simple and you'd like to save on the car camera installation cost. However, we do understand that this is not always possible, especially when the model of car camera is overly complicated.
Besides, if you bought a premium car camera, why skimp on the installation portion when you have already spent a couple of hundreds on the camera itself?
Car Camera Installation Price In Singapore
In Singapore, car camera installation price varies from $30 to $80 depending on whether you're installing just the front camera, or both front and rear cameras. Different car workshops offer installation services at varying price levels, with differing levels of price and expertise. That is why we have prepared a list of car camera installation service providers in Singapore to assist you in your decision making.
Car Camera Installation Services
Location: 3018 Bedok North Street 5 #02-08 Eastlink S(486132)
Opening Hours: 9am – 6pm (Mon – Fri) 9am – 1pm (Sat)
Contact: 64455777
First up on our recommendations list, we have Tomo-CSE Autotrim. Tomo-CSE Autotrim is a subsidiary of Tomo Holdings, the leading PV interior modification service provider in Singapore in 2016 going by sales revenue. With a market share of 16.3%, Tomo Holdings also ranked first in the electronic accessories and PV leather upholstery segments in Singapore in terms of sales revenue.
The Tomo-CSE Autotrim workshop provides electronic accessories, as well as safety & security accessories. Although there are only 16 reviews, this workshop stands at 4.7/5 stars user ratings which is no mean feat. Customers were generally impressed by the remarkable customer service and technical expertise of the staff. Tomo-CSE Autotrim is a decent choice if you'd like a fuss-free and reasonably priced car camera installation in Singapore.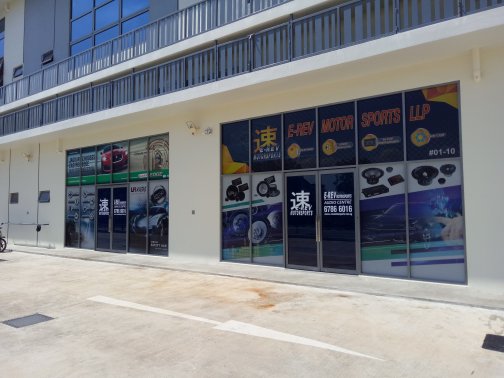 Location: 71 Woodlands Avenue 10 #01-10/11 Woodlands Industrial Xchange S(737743)
Opening Hours: 10am – 7pm (Mon – Sat) Closed on Sun & PHs
Contact: 67866016 / 97946477
Coming up next, we have E-Rev Motor Sports. Similar to Tomo-CSE Autotrim, this workshop offers car accessories, performance parts, gadgets, maintenance and installation services.
Set up in 2006, E-Rev Motor Sports is a partnership company which was awarded with the distribution rights from Ultra Racing in Singapore in that very same year. The company had started off with authorized workshops to launch this product and achieved astonishing results ever since. E-Rev Motor Sports also works with corporate companies to provide on demand services for their fleet of commercial vehicles.
As a reputable player in this industry, E-Rev Motor Sports also provides satisfactory car camera installation services. Sitting on a 4.6/5 stars rating based on 69 reviews, most customers were content with the excellent workmanship. There were little to no complaints at all, suggesting a reliably high standard of service.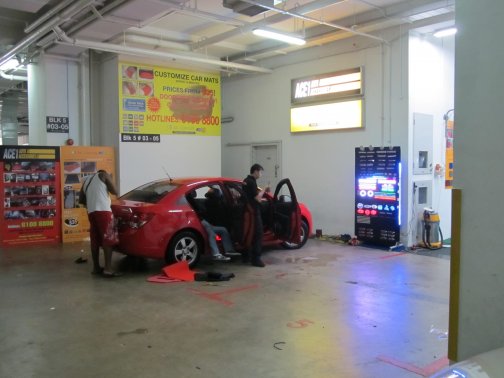 Location: 5 Kaki Bukit Road 1 #03-05 Eunos Technolink S(415936)
Operating Hours: 9.30am – 6pm (Mon – Sat) Closed on Sun & PH
Contact: 91778788 / 61008800
ACE 1 Auto Accessories' principal business activity is the manufacturing of carpets and rugs. Motor vehicles repair and maintenance (including installation of parts & accessories) is their secondary activity. Even so, the company is still one of the leading automotive accessories provider in Singapore as they have developed their expertise through the 10 years of operation since 2011.
This is backed by user reviews which sit on a decent 4.5/5 stars rating out of 80 reviews. Most notably, customers mainly complimented on the excellent service and affordable price. If you're looking for a cheap car camera installation price in Singapore, then this is the perfect recommendation for you.
The significant number of return customers also indicates to us that ACE 1 Auto Accessories provides a consistent service standard, putting it at #3 on our list.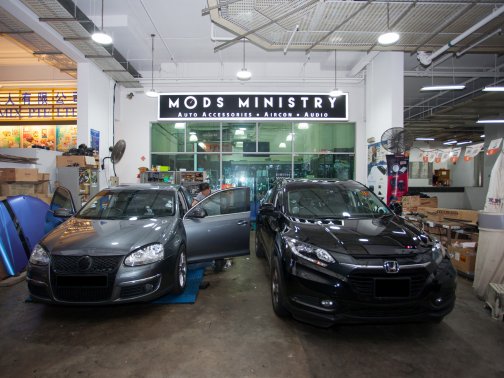 Location: 50 Serangoon North Avenue 4 #01-27 First Centre S(555856)
Opening Hours: 11am – 8pm (Mon – Sun & PHs)
Contact: 98447828
Mods Ministry is a car workshop that specializes in car audio, cameras, and air-conditioning. Of all the workshops covered thus far, Mods Ministry has the highest user ratings of 4.8/5 stars, with 55 reviewers in total. The general consensus was that the crew displayed exemplary workmanship, offering cheap prices below market rates. At Mods Ministry, you can also find car cameras from the reputable Korean brand IROAD. Each car camera comes with a complementary free installation and a 1 year warranty.
With a combination of superior technical expertise and an affordable car camera installation price in Singapore, Mods Ministry finds a spot at #2 on our list.
Location: 2 Yishun Industrial Street 1 #01-19 Northpoint Bizhub S(768159)
Opening Hours: 12pm – 8pm (Thur – Tue) Closed on Wed
Contact: 97856612
Coming out on top, we have Sg Garade Edwin. Sg Garade Edwin has been incorporated since 2012. An established brand with a wealth of experience, SgGarage Edwin offers a seemingly unending list of car related products and services.
Boasting of a whopping 4.9/5 stars user ratings by 104 reviewers, SgGarage Edwin hits the maximum standards for technical expertise, customer service and value for money. Customers were impressed by how reliable and meticulous the staff were. In addition to offering a cheap car camera installation price, the outstanding customer service was highly commendable as well. Additionally, many customers left positive reviews, applauding the efficiency and impressive quality of work.
Conclusion
There are plenty of car workshops in Singapore that sell and install car cameras, but it is rare to find an honest and high quality one. As consumers, we also want to get the most bang for our buck. While we're looking for a cheap car camera installation price in Singapore, we do not want to sacrifice the quality of service.
If you're searching for the best car camera installation service, we hope you found this article useful.
Best Car Camera Installation Services In Singapore and Prices + Reviews